Classic Metals specializes in manufacturing metal roofing products, because of that we get asked about Energy Star roofing on a regular basis. This question originates from customers concern regarding what type of roofing qualifies for Energy Star, and what percentage of savings can be expected by using an Energy Star products. Because it seems hard to find good information that makes sense concerning this question, we wanted to explain a little bit about how Energy Star Steel Roofing works for our customers benefit.
What is Energy Star
In 1992 the EPA began the energy star program to help identify and promote energy efficiency and products homes and buildings nationwide. The goal was to raise consumer awareness about how many products can save them energy costs in the long run, and help the environment by cutting energy usage. Through its partnerships with 18,000 private and public sector organizations, ENERGY STAR delivers the technical information and tools that organizations and consumers need to choose energy-efficient solutions and best management practices. ENERGY STAR has successfully delivered energy and cost savings across the country, saving businesses, organizations, and consumers $24 billion in 2012 alone. Over the past two decades, ENERGY STAR has been a driving force behind the more widespread use of such technological innovations as efficient fluorescent lighting, power management systems for office equipment, and low standby energy use. Products bearing the ENERGY STAR labels are more energy efficient than standard products, thereby saving energy and money. In general, ENERGY STAR certified products including: appliances, HVAC equipment, office equipment, residential lighting, roofing, and even homes, reduce energy costs by at least 30 percent. 
How does a Roofing Product become Energy Star Rated
Roof products that meet or exceed solar reflectance, without compromising product quality and performance, qualify for the ENERGY STAR label. Manufacturers voluntarily sign an agreement with ENERGY STAR called a Partnership Agreement (PA) allowing them to place the ENERGY STAR label on the packaging of qualifying roof products. They can also use the label in product promotions and advertising for certified products.
How is Energy Star Roofing Rated
There are three tests that can be done on roofing to show how it is affected by the sun's rays, and how much heat is absorbed.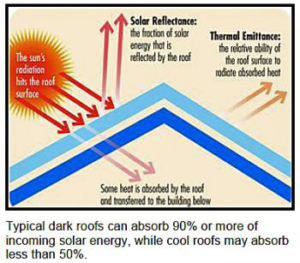 Solar Reflectivity ( SR ) is the measure of a certain roofing material's ability to reflect solar energy, or sunlight from the roofing  surface. SR Value's are numbered from 0-1.0. A value of 0 indicates that the surface absorbs all the solar energy, and a value of 1.0 indicates that the surface reflects all the solar energy. In order to meet the Energy Star requirements, the SR value for steep pitch roofing ( more than 2/12 pitch ) must exceed .25 SR. The SR test is the only test that is used for the Energy Star rating.
Emissivity ( EM )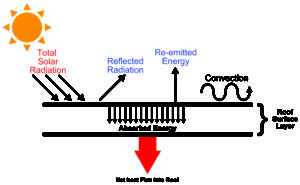 Emissivity is the roofing material's ability to radiate absorbed heat, thus lowing the roofing temperature at a faster rate after the solar energy subsides. EM is not used for Energy Star ratings.
Solar Reflective Index ( SRI )
Solar Reflective Index is used for compliance with LEED requirements and is calculated according to ASTM E 1980 using the values of SR and EM. In other words it is the combination of the SR and EM tests, and is used for a overall view of how the roofing material preforms. In order to meet LEED requirements, the roofing material must have a SRI of .29 or greater for steep roofing ( more than 2/12 pitch ). The SRI test is not used for the Energy Star ratings.
How much can I expect to save with Energy Star roofing
Energy savings from installing ENERGY STAR certified roof products will depend on the geographic location and climate where it is installed, existing insulation levels in the building, the type of roof it replaces, the type of roof installed, and how well it is kept clean and maintained. In general, cooling energy savings can be as high as 50 percent. Additionally, a reflective roof can reduce peak cooling demand by 10 to 15 percent. As a result, building owners may be able to purchase smaller, less expensive HVAC systems. Below is a test that was done on a control home in 2000 using several different roofing materials. It is not hard to see how the savings can add up, especially when you consider that the lifespan of a metal roof is 60+ years.
| | | | | | | |
| --- | --- | --- | --- | --- | --- | --- |
| Cooling performance at a control home | Total kWh | Savings kWh | Save Percent | Demand kW | Savings kW | Saved Percent |
| Standard dark shingles (control home) | 17.03 | 0.00 | 0.0% | 1.63 | 0.00 | —- |
| White "Barrel" S_tile roof | 15.29 | 1.74 | 10.2% | 1.44 | 0.19 | 11.80% |
| Standard dark shingles, sealed attic, R_19 roof deck insulation | 14.73 | 2.30 | 13.5% | 1.63 | 0.01 | 0.30% |
| Terra cotta S_tile roof | 16.02 | 1.01 | 5.9% | 1.57 | 0.06 | 3.70% |
| White "Barrel" S_tile roof | 13.32 | 3.71 | 21.8% | 1.07 | 0.56 | 34.20% |
| White flat tile roof | 13.20 | 3.83 | 22.5% | 1.02 | 0.61 | 37.50% |
| White metal roof | 12.03 | 5.00 | 29.4% | 0.98 | 0.65 | 39.70% |
Although Energy Star ratings is just one of the many reasons to choose metal roofing, we hope that this has been informative and will help you make a informed decision when your roofing is in need of replacement. Please feel free to contact us if you have any questions regarding this subject. You can also visit the following websites for more info on the testing procedures.
The information provided is for reference only and may change without notice