Ewing Farm near Wooster, Ohio has been in the family for over 200 years
Few things now days last for 50 years, and the fact that something has been in the same family for over 200 years is an amazing fact. William Ewing purchased 2,000 acres near Wooster OH in 1812, and that property has remained in the family until this day. Altho there have been improvements and renovations made over the years, many of the structures remain.
In the life of a farmer, the barn is a very important structure and a staple to the farmer's way of life. The original barn that was on the Ewing property burned to the ground in 1939 because of a lightning strike. At that time the Ewing barn was the largest barn in all of Wayne County, so it was a loss of epic proportions. As was the custom in that day, everyone in the area was willing to volunteer and rebuild the structure, however, because of the cost that was involved, the barn that was rebuilt was smaller than the original one.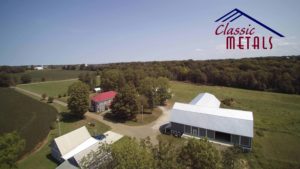 Five years ago, the family decided to update the home that was located on the property. Among the many things that they upgraded they lifted the home, and dug a new basement under the home. They also installed a new metal roof on the home and added a lot of details to the exterior. In October of 2016, the owners turned their focus to the Barn. There was an addition that was added to the side, the roofing was replaced with Galvalume Standing Seam, and a number of other improvements were made. Throughout the entire prosses, the family was concerned in maintaining the timeless style that the original buildings were designed to have. Classic Metals was privileged to be involved in manufacturing the Standing seam for the Barn On-Site, and the project went very well.
All of us here at Classic Metals and First Choice Exteriors, want to Congratulate the Ewing Family on a beautiful property and wish  you all many more years of enjoyment.