Textured 3D Standing Seam, installed at Tranquil Acres
 Several months ago Jesse & Dorothy Steiner realized that the time had come when the roof on their home was needing a replacement. After looking at many of the different Metal Roofing options that  are available, they chose to go with the 16" wide Textured 3D Standing Seam. The Textured 3D Standing Seam was the roofing of choice for them for many reasons, including the reduced glare of the metal, and the hidden fastener system.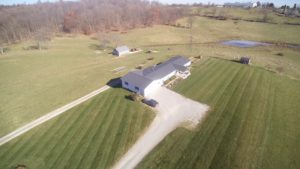 When the time came to choose the installers for the roof replacement Jesse chose to hire 'Yoder Family Roofing and Seamless Spouting' to do the project. "They did a Super Job" said Jesse, "Everything was cleaned up and the project looked great when they left. They installed the Roofing with care and professionalism, and this roof will last for a lifetime.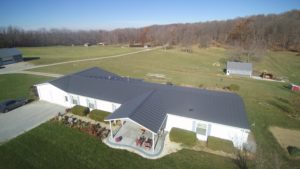 When I asked Jesse regarding what he does in his spare time, I discovered that he has a  lot to keep himself busy. His main occupation is his business, Tranquil Acres Cabins, which is located on the premises.
These three beautiful cabins are surrounded by forest, and fields in the middle of Amish Country; they feature Gas-Fireplaces and Knotty Wood Paneling. These TV free Cabins also come with a cozy Living room, Bedroom and Kitchenette; perfect for someone who is looking to get away from the busy rat-race of life, and spend a weekend soaking up the beauty of the forest, and surrounding Amish County. "We even have locals come and spend a night or two" said Jesse. There is a pond for catch and  release fishing and also hiking trails, and a small mini farm. Jesse is well versed in the local Holmes county area, and will be able to give recommendations for local activities and events. You can find out all the details at http://www.tranquilacrescabins.com and book your own getaway.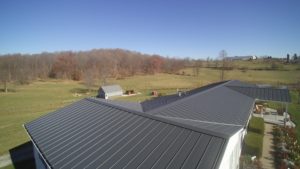 We really enjoyed working with Jesse and Dorothy and also Yoder Family Roofing with this project and look forward to working with them in the future.