Custom Colored Standing Seam installed on Health Center in Marengo OH
There are many choices when it comes to where we go to receive healthcare, however there are always healthcare facility's that stand out among the rest. That decision has become a little easier to make if you live in the Marengo Ohio area.
In 2013 the Morrow County Hospital at the Cardinal Center was built with the intention to provide high quality healthcare to the area. During the planning phases, the decision was made to pursue Standing Seam Roofing, however the exterior designer was looking for a bright red color that was not available as a standard color. That is where Classic Metals was contacted to look at the color that was needed, and pursue the option of painting a custom color. The custom color was painted, and then later, the panels were manufactured on the jobsite by Classic Metals. The Standing Seam Panels were installed by Schwartz Qua
lity Construction, located in Marengo Ohio.
Essentra Pharmacy is also located in the same building, which really helps to make filling prescriptions a breeze. At Essentra Pharmacy, they strive to have the feeling of a hometown pharmacy, while still providing the most advanced products, services, and information that is available. They also understand that time is precious, so they work efficiently to get your prescriptions ready in a quick, but safe, manner.
If you are looking for high quality dental care in the Marengo area, then Cardinal Family Dental, which is also located in the same building near the intersection of I-71 and SR 61 is the place to go. Dr. Lenz and Dr. Meers will treat you like family, and are on the cutting edge when it comes to Dental treatments and procedures. From exams and cleanings, to root canals or extractions, the staff at Cardinal Family Dental will treat you with honest and thoughtful care.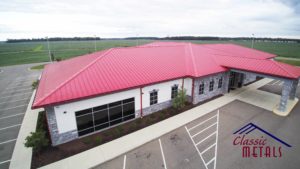 The entire facility has really been a asset to the area, and Classic Metals is proud to have played a part in the construction and completion of this project.