Hand Seamed Metal, is replaced with Terracotta Standing Seam
Metal roofing has made drastic improvements in design and longevity in the last 40 years, and this fact was proven once again at a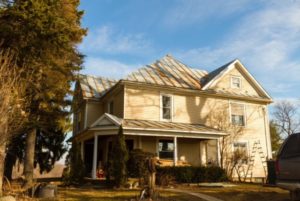 job site that we visited a few weeks ago. The existing roofing that was on the home of Dave and Heidi Scherpelz was Galvanized Hand Seamed Standing Seam Roofing. This type of steel roofing has yearly maintenance that is needed in order for the roof to last long term. Every year the seams need to be re-crimped and sealed with a special sealer and the roof need to be inspected for leaks. Over the years some of these steps had been neglected, and the roof was slowly deteriorating.
"This home is located on a hill, and we  experience very high winds on a regular basis", the owner Heidi told me.  " I guess we did not really realize how bad the roof was, until after a hard storm, I counted 40 leaks". It was then that Heidi began the process of finding a roofing installer that they could trust, and began making decisions on the style and color of roof that they wanted. They interviewed a lot of roofing contractors and they quickly felt comfortable with Hochstedler & Sons Construction, located in Gambier Oh. "Paul from Hochstedler answered all of our questions and with the experience that they had as a company, we knew that they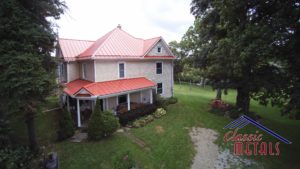 would do a great job".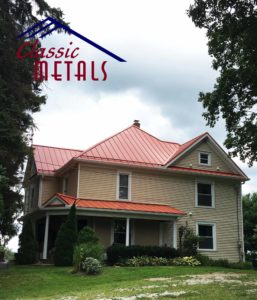 As they discussed the different options in metal roofing, Heidi pointed out that with the high winds that they receive, they needed something that would stand the test of time. The 16″ wide Weatherlock panel was decided on because of its high wind resistance, and how its appearance stayed true to the style and design that the original home builder had in mind. "Picking a color was hard" Heidi said "but that is where Google was our friend, when we wondered how a color combination would look, we searched for it on Google images, and that really helped us make our decision".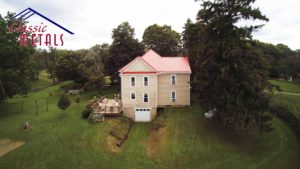 Hochstedler and Sons did a really great job on the installation, and everyone is really pleased with how it turned out. They really took their time and paid attention to the details, and that is really important for a completed job to look its best. Congratulations to Dave and Heidi on a great looking home, and a roofing system that is designed in such a way, that yearly maintenance is now a thing of the past.