Maintenance-Free is the goal of new Standing Seam Roof
When Rita Boyd began the process of building her new home, there were a number of things that were very important to her during the planing stages. One of the things that was important, was that the home would be built in such a way, that it would be as maintenance free as possible. When the time came to decide on a roofing material, there were several options to consider. Asphalt shingles would have been an easy choice, however, as Rita thought about it, she realized that asphalt shingles did not fit into the goal of reducing the maintenance that would be required in the future.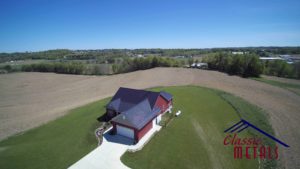 In a previous home, Rita had the experience of needing to replace old asphalt shingles and had decided at that point to have a metal roof installed. She really liked how it had looked and had a good overall experience, so she decided to look at the options that Metal Roofing would provide on her new home. She was aware of the Ag Panel option, but did not feel comfortable with having exposed fasteners. Metal Shingles would have been really nice, but she was afraid that it would be out of her price range. After looking at the different Standing Seam profiles and colors, she decided to go with 24 gauge Matte Black, and the 1″ x 16″ Weatherlock panel. The raw steel was painted and slit by Shefield Metals, and Classic Metals manufactured the panels on the jobsite.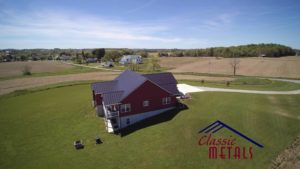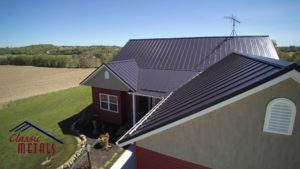 Rita mentioned that she was very pleased with the final product. The Standing Seam was some more money up front, but in the long run it really costs less then asphalt shingles. We here at Classic Metals and First Choice Exteriors want to offer our Congratulations on her NEW Home. The black roof accents the red siding very well, and really looks impressive.