Polk Church of Christ, has stood the test of Time

In this modern time of fast paced technology, and disposable products, it feels refreshing to hear about a Church / Congregation that has stood the test of time. One of those examples is the Church of Christ in Polk Oh. The current church building itself was built in 1906, however the congregation was founded by Thomas Campbell, and his son Alexander in 1840. Starting in about 1860 the congregation started regular monthly meetings, and in 1870 they decided to erect a church building. Jacob B. Fast, a carpenter from Troy Township built the church for $1,500.00 and dedicated it on February 19 1871.
There were many hard times and good times throughout the years, and in 1890 it looked like the church might dissolve into the pages of history, however on July 28th 1897, five woman convened to form the Ladies Aid Society with a goal to secure a suitable place to hold preaching services in Polk. Through much determination, fundraising and hard work they raised the funds needed to build a new church building in January 1906. A few of the costs of interest that were involved were an Organ– $34.48, 8 dozen chairs–$41.56, Hymnals–$8.00, and the land for–$250.00.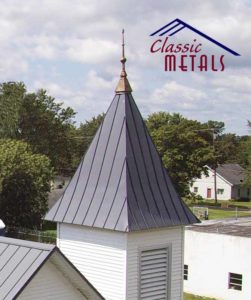 Classic Metals was contacted when the time came to replace the existing asphalt shingle roofing with a 24ga Standing seam roof. One of the challenges to the project, was the fact that the steeple roof was curved, and the question was asked if it was possible to install steel roofing in such a application. We worked with the installers to calculate the amount of curve that was needed, and then manufactured the panels in-house to those specs. A big advantage that Classic Metals was able to provide, is that the curving is done at our location, rather then shipping the material from another source. The final project came together very nicely, and the congregation of the church could not be more pleased with the final outcome.
If you happen to be in the Polk Ohio area, be sure to stop by, or attend a service, and take part is a piece of history that has stood the test of time, and been in operation for over 150 years.
Service times are as follows……Sunday School–9:30, Morning Worship–10:30, Bible Study ( Second Sunday of the Month )–11:30